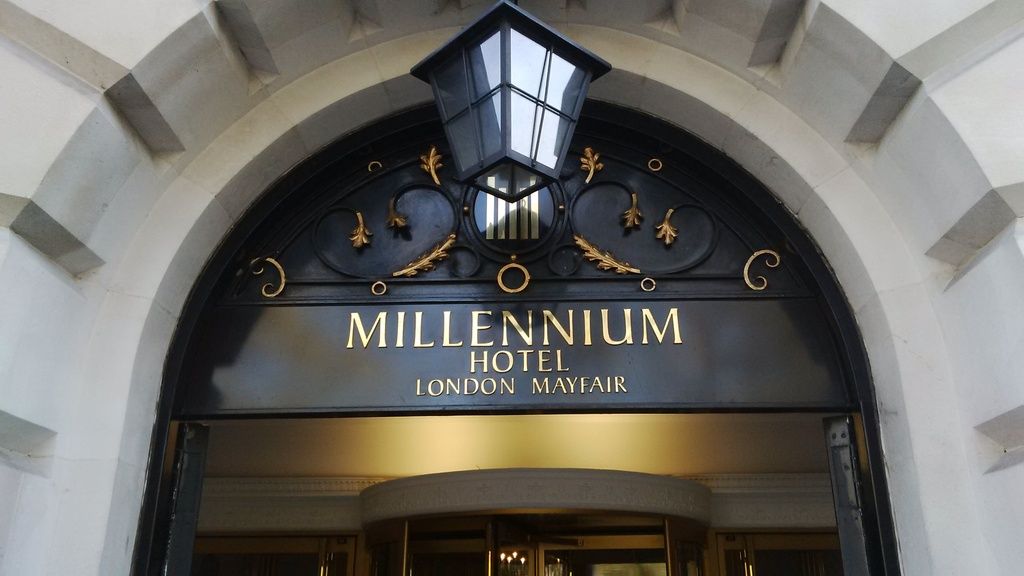 Tucked away in the quiet streets of Mayfair, the Millennium Hotel sits discreetly. It is a building in keeping with the area and has an air of sophisticated decadence.
The foyer is grand and old fashioned, just as a lobby should be! The bar that I peeked into is a small masculine room full of leather and mahogany.
The restaurant was a great contrast to the rest of the building and was an extremely modern space. A spacious and bright setting to enjoy afternoon tea, but lacking a little charm and character. I always think it is a shame when doing renovations to an old building, that everything original is torn out and replaced.
I paid £20 per person for champagne afternoon tea on an Amazon deal (I can never resist an Amazon deal!). We had champagne to start while mulling over the tea options, of which there were many. The menu had in-depth descriptions of each tea to help choose.
Tea was served shortly after with an hour glass to tell me when it had brewed, which was fun and a nice touch!
I always go for the Earl Grey, and this didn't disappoint. It was smooth, light and had that citrusy/floral bergamot twist.
Tea was served in a pretty Wedgewood wild strawberry tea set that was so very cute. I always think tea tastes better out of a nice tea set!



I enjoyed the traditional sandwiches, which were made with good quality ingredients and were incredibly fresh.
The scones were definitely homemade and nice and light. They were extremely large, so I struggled to finish them, but they were delicious.
The piece de resistance though was the desert tier. Incredible mini deserts, including a chocolate brownie, fruit and crème anglaise tart, a raspberry panna cotta, and my favourite, a pistachio crème brulee. Very small desserts, but each a perfect little morsel with flavours balanced to perfection.



I don't usually mention the toilets but these were particularly fabulous and spacious, so I took a quick selfie. I wore my Spring for Cotton dress that I have been wearing a lot recently.
For the Millennium I would score as follows -
Mise-en-scène - 3/5 - A light and airy setting, quiet and relaxing.
Tea - 5/5 - A wide selection of loose leaf teas, the menu had in depth descriptions to help with choosing, plus such cute china!
Scones - 4/5 - The scones were definitely homemade! Yum yum!
Service - 4/5 - Friendly, attentive staff.
Value - 4/5 - They do great deals on Amazon Local. It is worth going purely for the deserts alone!
Total: 19/25
I has a fantastic time at Millennium Hotel and would definitely visit again!

XOXO
Christina