Another of my outfit solutions for cold spring weather!
Wearing beautiful spring tones but in a thicker weight fabric.
Why did I not think of it before???
I can't believe I don't have a vintage 50s suit, I mean it is a wardrobe staple, surely!! (Don't call me Shirley!)
I wasn't feeling quite up to making a traditional tailored jacket because of the time frame involved, so I chose this much softer look.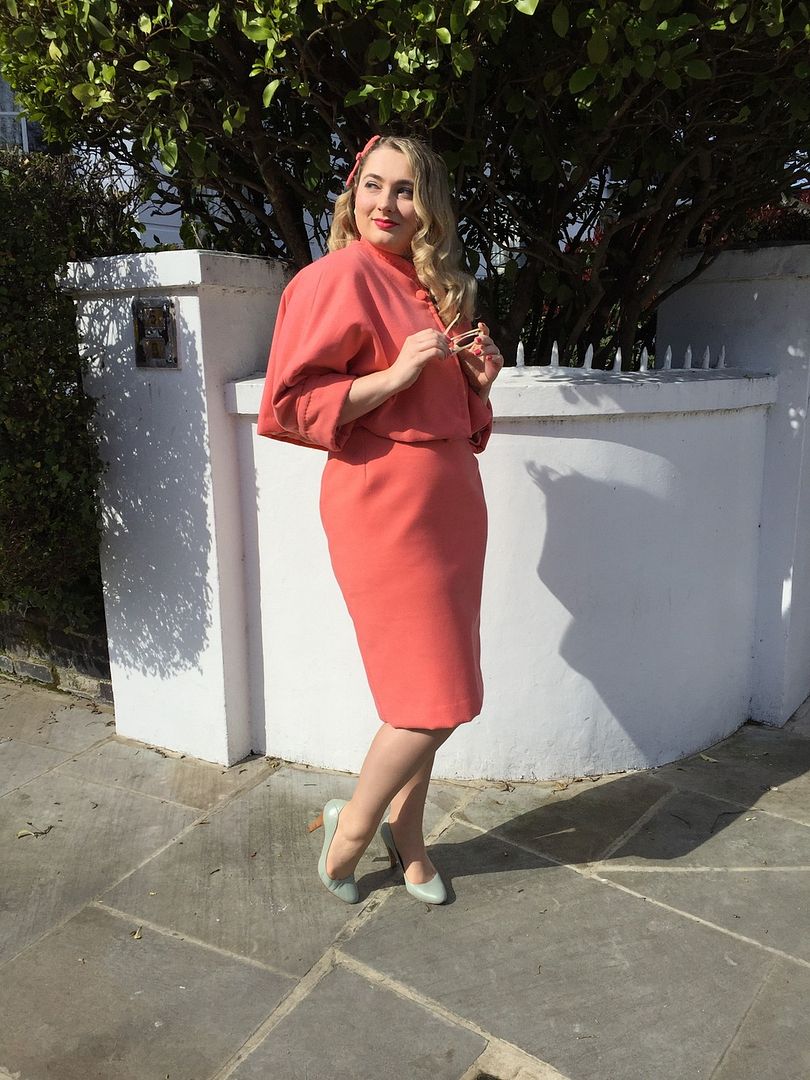 I used vintage vogue pattern V2934 for this jacket. I cut the size medium, without any adjustments. Woo Hoo!
Super easy to sew up, a lot of hand stitching involved so very therapeutic, for me at least.
It is very cape like in its shape, with a luxurious drape at the hem.
I love how the jacket is shorter in the front and significantly longer in the back.
The thick cashmere I used worked wonderfully and holds the shape of the folds well.
This is my favourite outfit that I have made in quite some time.
I love the coral and felt very sophisticated wearing it.
And the benefit of a suit is that the two pieces are able to be worn separately to create different looks.
I made the little hat in matching fabric.
I can't help but to love matching everything where possible.
Tutorial for this hat coming soon.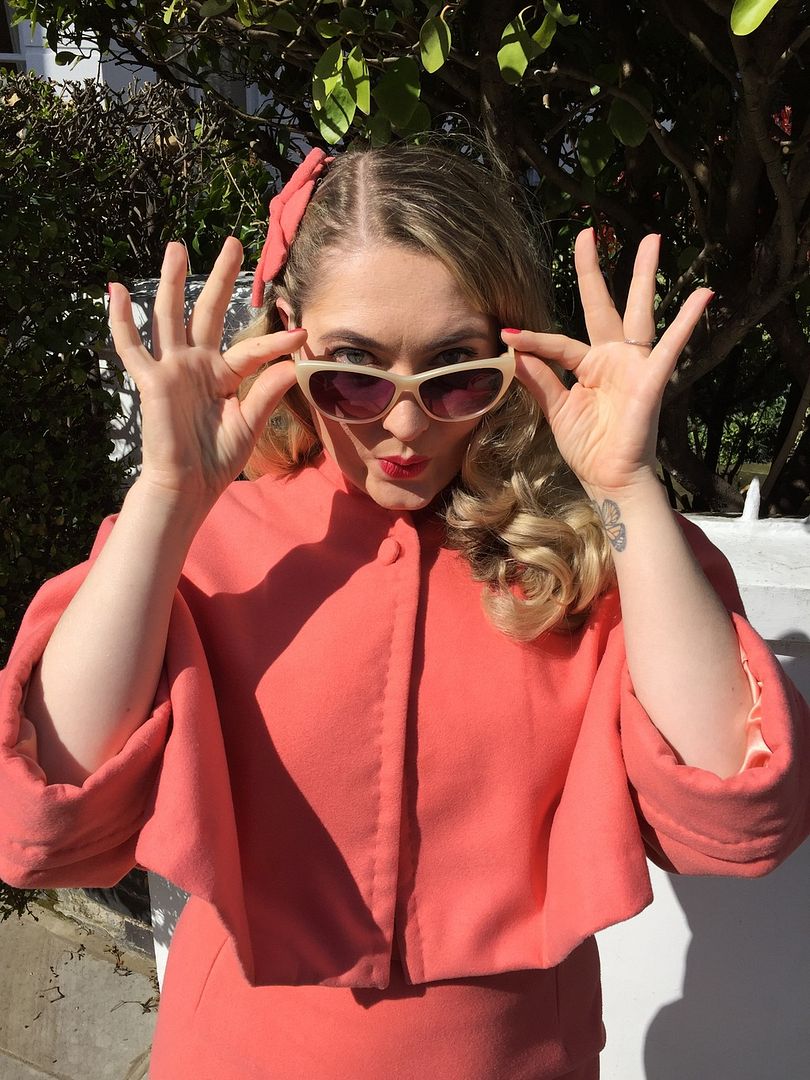 This colour is so much fun to wear!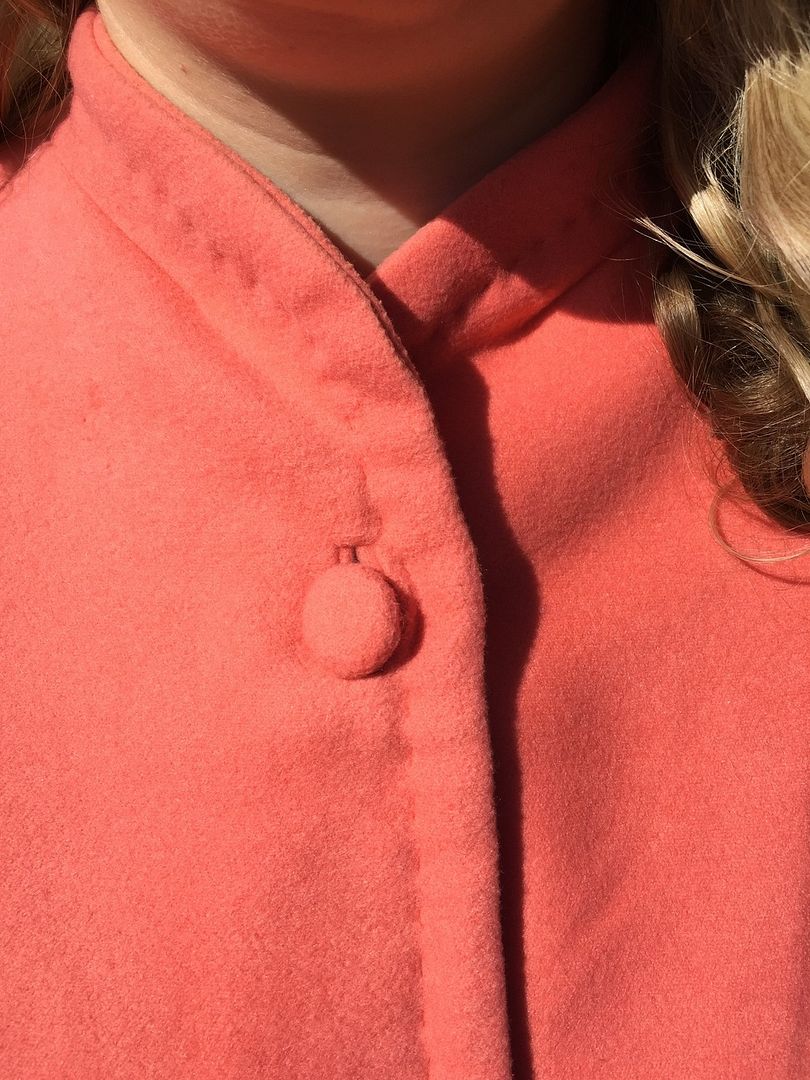 I absolutely love fabric covered buttons to give that elegant vintage touch.
Combined with a bound button hole, the look ended up very polished.
I finished the cuffs and front with hand stitched edging.
It is a very simple jacket so I wanted the details to be elegant and well executed.

I contrasted the coral with turquoise and mint tones and I'm thrilled with the result.


Outfit details
Jacket- Me Made V2934
Skirt- Me Made, self drafted
Hat- Me Made, tutorial coming soon...
Top- Charity Shop
Shoes- Agnes and Norman
Earrings- Vintage
Sunglasses- Accesorize

I finally feel like I'm achieving a more cohesive style. A wardrobe full of things I love to wear instead of a huge pile of things that don't fit or flatter me and I can't bear to wear one more time.

It is a fantastic feeling to open your wardrobe and be inspired by your selection!


X O X O
Christina