Spring is finally here, and yet, if I'm honest, it is still nippy out!
I'm itching to wear my lovely summer frocks, so I'm attempting to incorporate them with a bit of layering, until the sun really shows us some love here in the UK.
(Maybe this year will be the year that we finally have a real summer)
Outfit details
Dress- Vintage from Through the Looking Glass
Wrap top- me made- Gerties Butterick B6285
Tights-M&S
Brogues-Clarks
Brooch & Earring set- Bowandcrossbones
Coat- Vintage- Beyond Retro
Scarf-me made
Bag-coach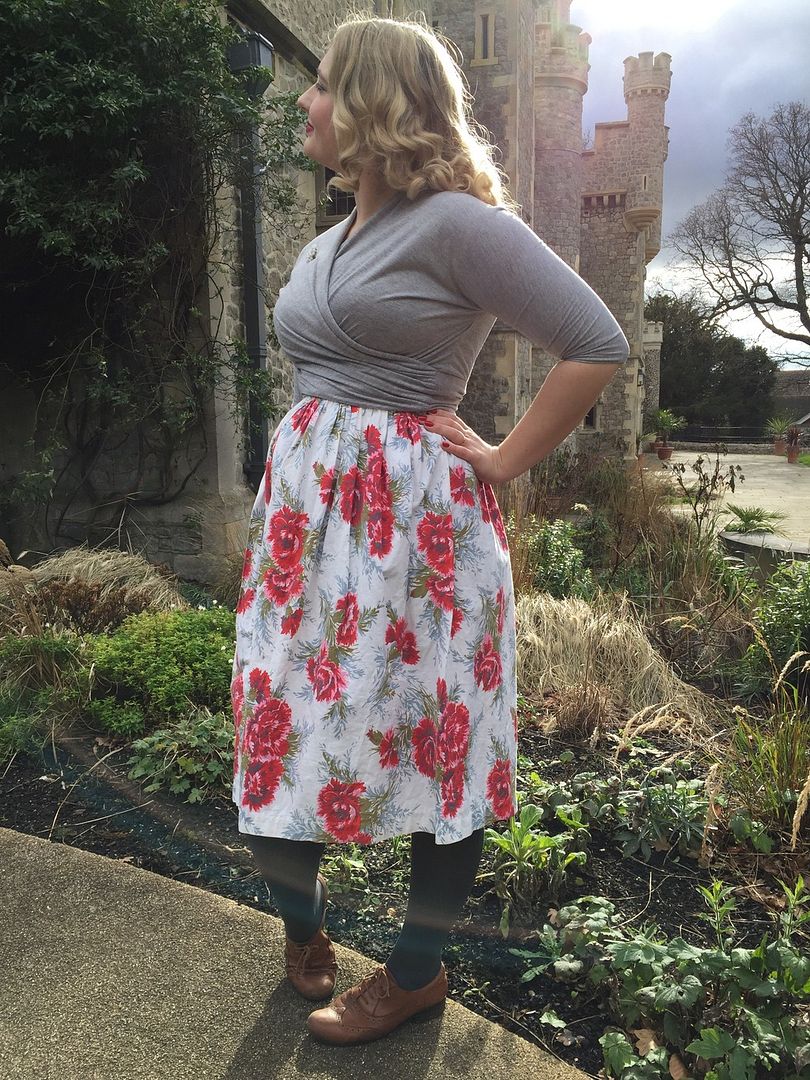 After seeing this wrap top (Butterick B6285) being made up by numerous sewing bloggers, I had to give it a go. I took advice from Tasha from
Bygumbygolly
and made this first version up with wider sleeves and shorter waist ties.
In general it is a very cute top, totally wearable! Really best worn over a dress though, unless the bodice is lengthened significantly or your intention is to bare midriff (not in this weather!)
The only issue I had with the pattern is the back is a bit short and the hem keeps popping out from under the waist ties, very annoying.
I don't like garments that you have to fiddle with throughout the day, so next time I will lengthen the back significantly.
Fiddling problems aside, I am really happy with how this project turned out because it was my first project using knit fabric.
Totally different than sewing woven fabrics but not more difficult.
Yay knits aren't scary after all!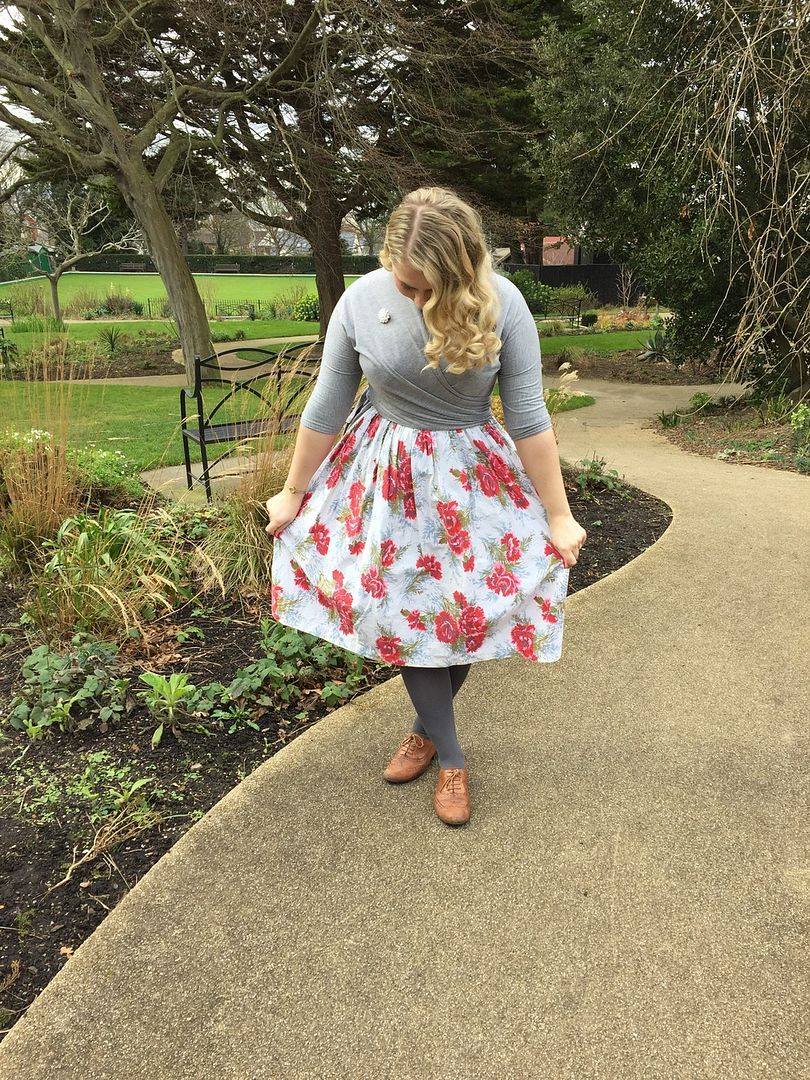 This Carnation print is very sweet, I'm in a very floral mood at the moment especially combined with vintage cotton sun dresses.
With tights and a wrap top or cardigan, summer dresses can be almost practical whilst a chill remains in the air.
Ok, in reality I did still need a coat and scarf, but we can make believe that I diddnt.
Whitstable castle was the location for these pictures, and picture taking definitely requires refreshments!
Definitely the biggest afternoon tea ever!
(Though with pies and quiche it was technically High Tea)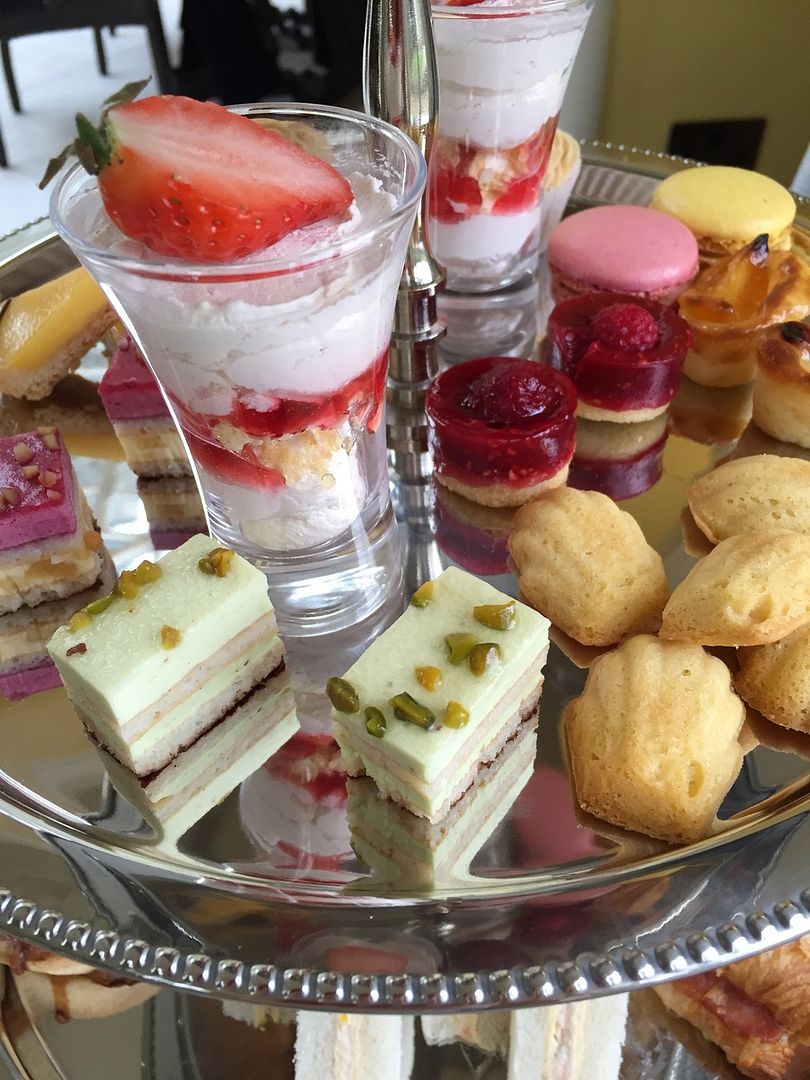 Such dainty delights!
And lots of savoury for my Mr.
He doesn't eat sweets so I eat them all!
I have been trying to up my vintage game and make more effort in my outfits and hairstyling now that the sun has awoken me from hibernation.
I recently started using setting lotion to give my curls more hold and I'm never going back!!
Bouncy curls are my best friend at the moment and I have finally found a hairstyle that works for me (long lasting and easy to achieve!).

Happy Spring Everyone!!
X O X O
Christina