This month I was lucky enough to be included in
A Stitching Odyssey's
#VintagePledge July Extravaganza. I was immensely flattered to be included, and as one of the newer bloggers on the block I wanted to make a good impression.
I chose to make something that would photograph well, had a vintage flair without looking too costumey and I could sew easily. ( I'm not a risk taker, I like to meet my deadlines!)
Hop on over to
A Stitching Odyssey's blog
for my review of McCalls pattern 4417.
This project should have been a breeze, and yet at every stage I was being sabotaged. I say sabotaged because really, how is it possible that I kept doing everything wrong?
Some greater force must have been involved!
Ok, to start with a pattern piece was missing, which I didn't realise until I was making a mock up. Sat at the sewing machine, sewing the bodice together I was baffled as to why I couldn't make the pieces fit.
Duh! Missing piece!
This has never happened to me before. It is vintage though so it was bound to happen at some point.
Cue trying to self draft a front neckline piece that attaches to a weirdly constructured, pleated detail. Arrgh! Hellish!
But I managed to do it! It took a while, but I was on top of the world!
I'm a sewing genius! Ha! I should have stopped there. Left the project for another day, but no.
I had to cut out my fabric.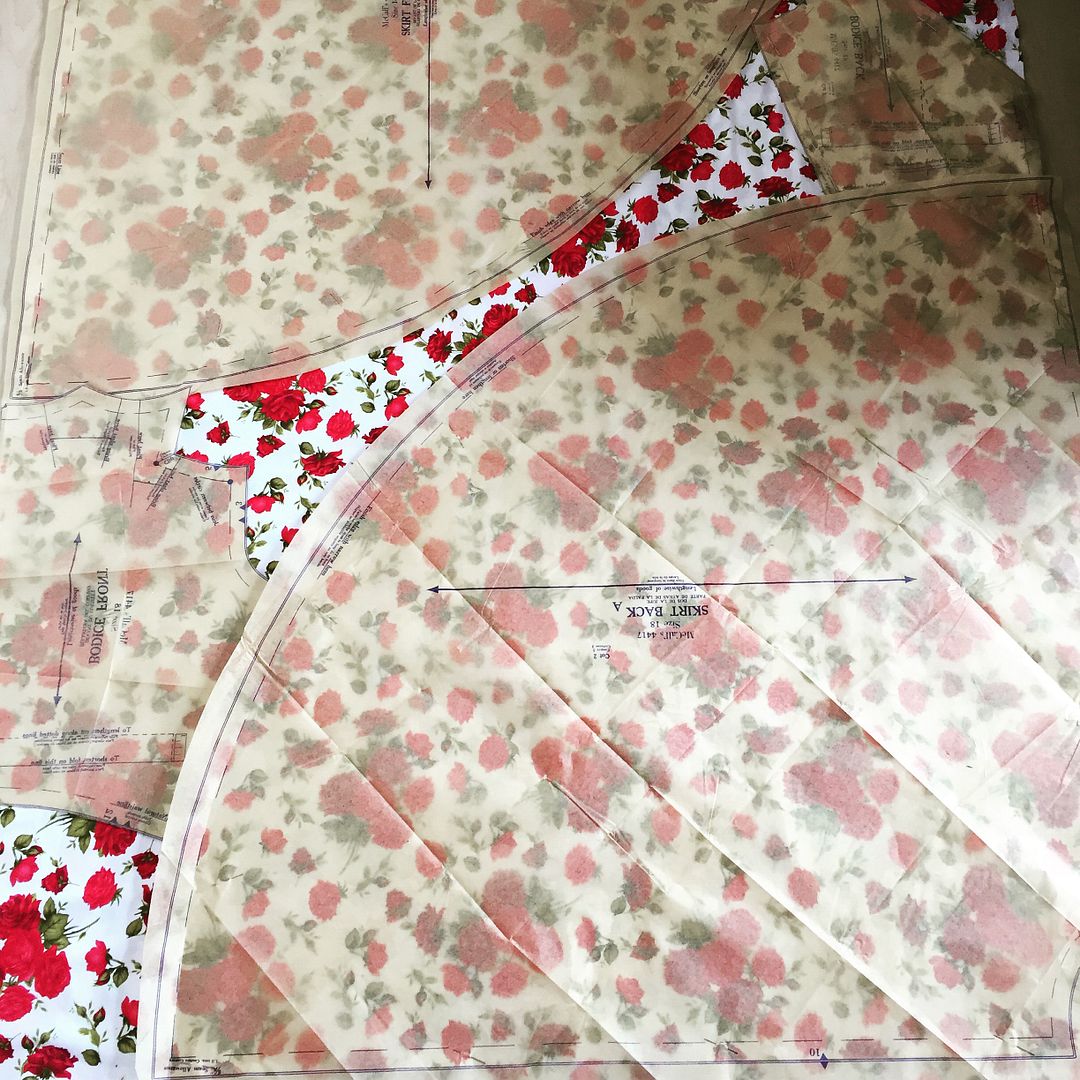 I bought 3 meters of fabric and the pattern calls for 3.25. I played around with the placement and managed to squeeze out all of my pieces.
Totally smug that I had dodged the bullet on that one, I cut out my pieces.
Oh dam! The bodice was meant to be on the fold!!! Now there is going to be a seam down the front of my bodice, with the roses not matching.
Arrrrrrrrrrgh!!

I was so mad with my self! How can I have pictures on a sewing bloggers blog with a butchered dress. No one wants to see that. And to make it worse, all the other bloggers are home sewers, this is my actual job!!!
That's like a receptionist that can't answer the phone!
Suddenly, painting the front of my dress, to match the pattern and fill in some roses seemed like a great idea! Keep in mind this is the middle of the night by this point. I was in a sewing frenzy- not in a good way.
So yes I painted the front of my dress. I painted it and waited for it to dry and then ironed the fabric to set my paint and accidentally left the iron on maximum steam and steamed my paint off my dress and on to my ironing board cover.
Total ire emanating off the top of my head!
I'm pretty sure I was radioactive.
Of course, at this point in the story, one would assume that the silly girl realised that the best thing to do would be to come back to the project with fresh eyes in the morning when she was functioning as an adult and making good choices!
Ha! Yeah right, did I heck!
Back to the painting I went, ironed it and only then, finally off to bed.

Now when I woke up, I thought to myself
"What a good crafty girl you are Christina!
Pat on the back Christina!
You deserve a treat, let's admire our handy work".
I would fill this space with a curse word of some sort, but at this stage, the curses had all been used and really there was nothing left to say.
The steam job has tinged my background kind of orange- I hate orange!
My paint job was a great attempt for a small child.
And for some strange reason, it seemed that I had realised last night that my painting was clumsy and tried to make the rest of the roses on the front look equally as clumsy by basically blocking the detail out with red paint.
Hay ho, what you gonna do now? Sew the monster together!
So that is what I did. It was super easy and a pleasure to sew. Only problem was, I basically hated this dress.
I went to put in an invisible zip, I needed a white one but I didn't have one to hand so I put in a pink one. Really, who cares now. This dress already hates me.
Throw caution to the wind and wack in a pink zip.
And it was done! Finally the hateful dress was finished, and I never wanted to see her ever again!
It would seem that the solution to all of my troubles would have been to go and buy more fabric. If I had thought of that at the time, then I would have. Of course by the time that thought vaguely cross my mind, the dress was made.
Retrospect is such a fantastic thing!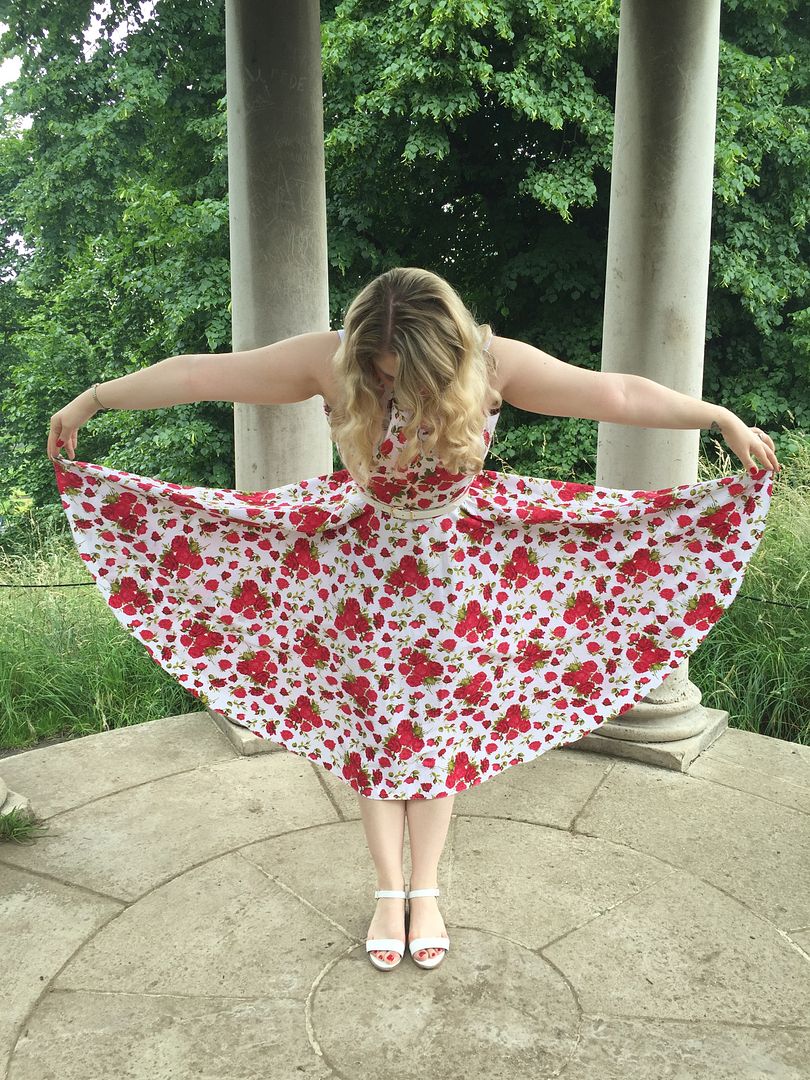 I put on the horrid beast for pictures, and by some miracle, I'm serious, against all odds, I loved the dress!!!!
Probably one of my favourite dresses I ever made. How did that happen?
The print is so pretty, the cut of this dress fits beautifully, the neckline is the perfect feminine, vintage detail and even I can't notice my amateur painting.
So somehow I managed to fall in love with the monstrous dress from hell!
Bloggers make everything look effortless. We show only the best sides of ourselves. We smile in our pictures, or do that weird, blogger, moody pose and you have no idea as the reader that actually, it took serious effort to get to the point where we published our blog post for the world to scrutinise.
I felt like this post was a life lesson to never give up, but really I reckon it is just a post to say, shit happens, paint the roses red!
I hope you enjoyed this little rant of a post, or at least liked the pretty pictures. I suspect some people skim the words anyway and just enjoy the dresses (yes, you know who you are!)

Anyone else had a similar situation where the odds are stacked against you?

X O X O
Christina