I do tend to get a bee in my bonnet sometimes. Whenever I get a crafting idea, that's it, I have to make it happen!
And I mean IMMEDIETLY!!!
Flower crowns were something I had seen popping up all over the place this summer, so of course my crafting bee started buzzing!
I popped in to a little florist and picked out some pretty blooms.
And settled down with a friend and plenty of refreshments at hand, and just messed around with my flowers and some pipe cleaners.
I twisted everything together with as much artistic flair as I could muster in a cafe, huddled away from the rain outside and the unsure glances of the waiters.
And it came together pretty well in the end.
The flowers sit just at the front, the back is only pipe cleaners twisted together for support.
Outfit Details
Blouse- Urban Outfitters
Skirt- Me made (self drafted)
Shoes- New look
Basket-Amazon
Cardigan- Marks and Spencer
Earrings- Vintage- Bow and Crossbones
It was a lot of fun wearing this flower crown for the day!
I got so many compliments from passers by too!
This look is my meadow frolicking look, which incidentally ended up looking a bit Dorothy Gale.
But I'm totally fine looking like Dorothy, in fact it's an added bonus!
To keep the Dorothy look going strong, I took some lovely photos with my friends dog Phoenix. He plays the Todo role very well!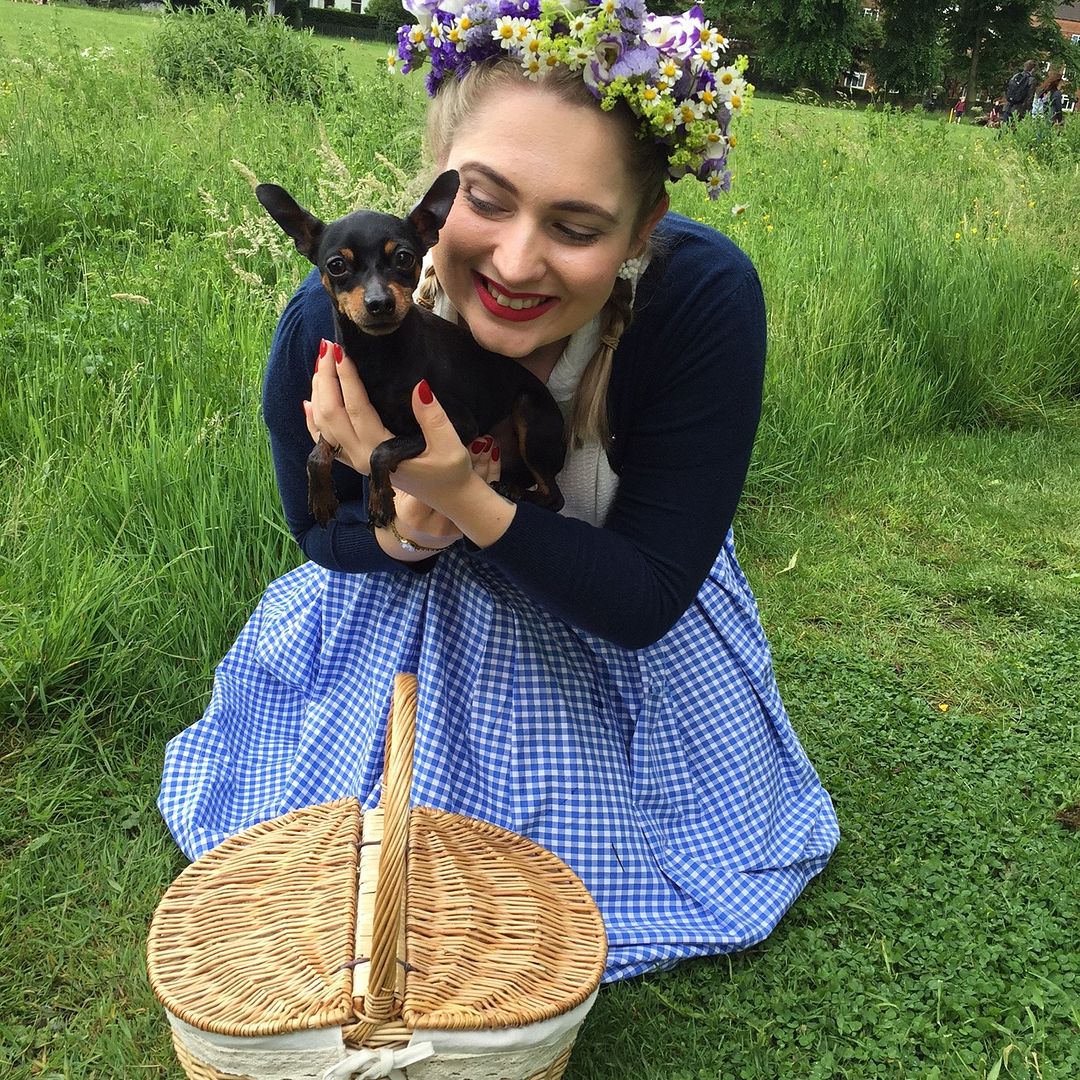 Such an adorably little guy!
And one of the basket. Because when you have a basket full of flowers and strawberries, there is nothing prettier!
X O X O
Christina