On my recent trip to Amsterdam, I wanted to put together a look that I could travel in and then jump right in to seeing the sights. So comfort was my main concern.
Also when traveling I prefer not to wear my true vintage pieces as they don't tend to pack well or deal with clumsy spillages(I am a very clumsy spiller).
Can we stop to note how annoyingly cold airplanes are, so got to stay warm too!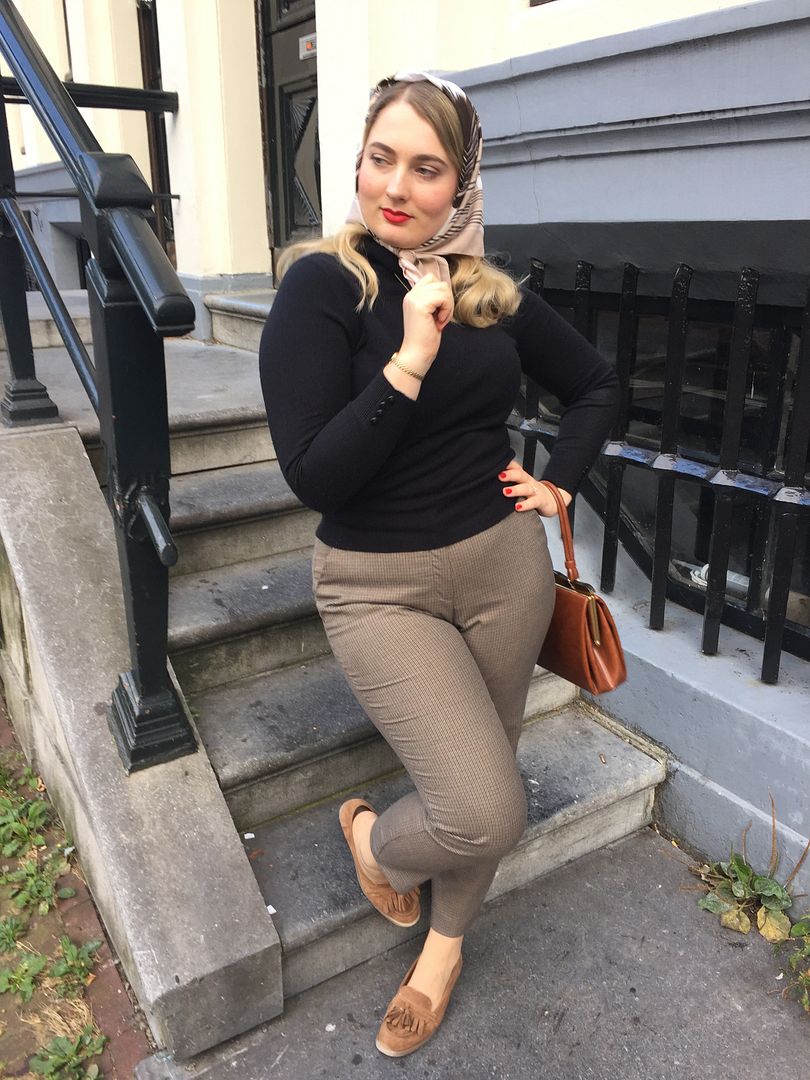 This is a look put together with pieces from the high street.
A black polo sweater is always a classy option, and the tapered trouser were a straight leg that I had altered to be slimmer.
It just goes to show that a vintage style wardrobe comes together with elements from many different places and doesn't have to cost a fortune either.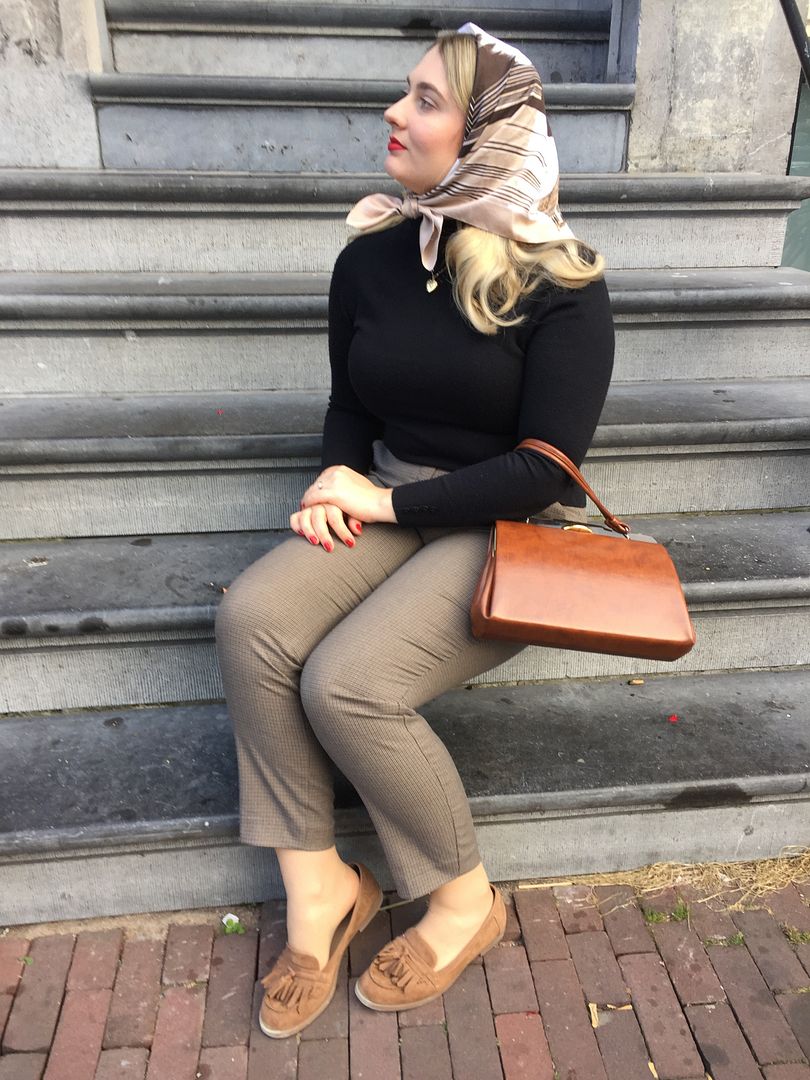 Outfit Details
Polo sweater- M&S
Trousers- M&S
Loafers- New look
Scarf- Vintage- Beyond Retro
Handbag-Vintage- Etsy
Gold locket- Vintage-Etsy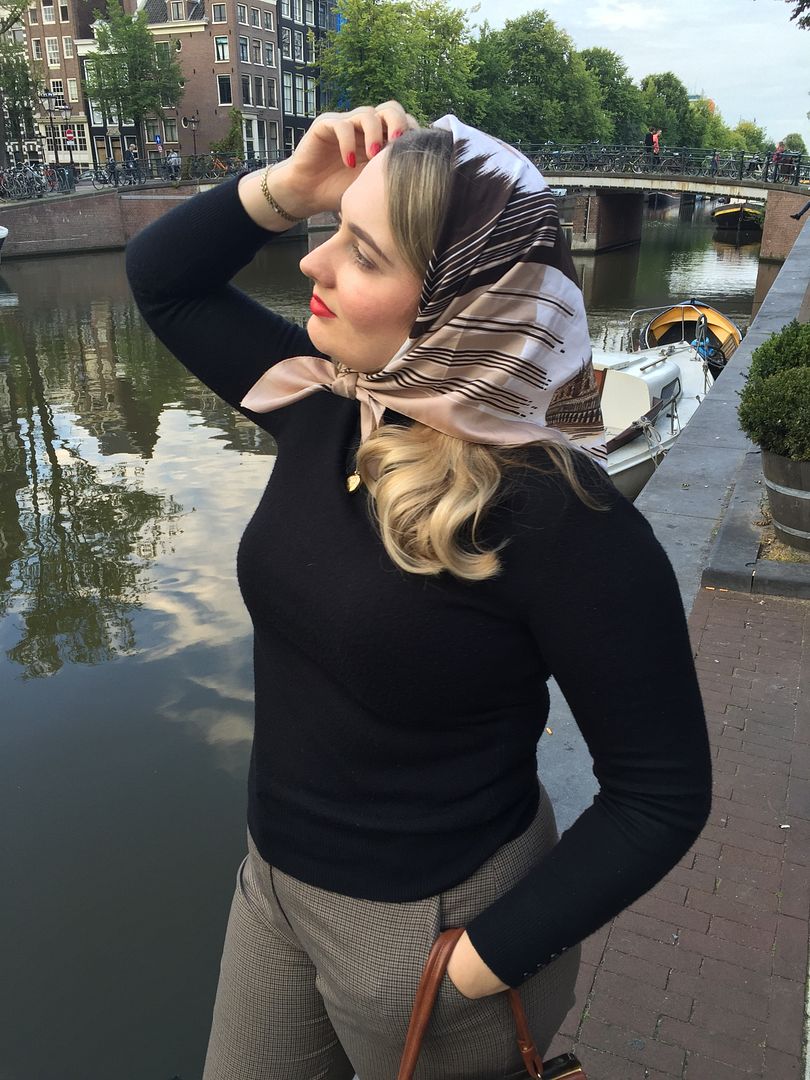 I did start the day with a lovely curly hairstyle, but the curls dropped badly throughout the day so I added the scarf as a last minute addition.
I think it looks all the better for it too! Kind of European!
Ok, so this is definitely a bit of a granny look.
But my granny was a super stylish lady, so I'm totally ok with that!
I absolutely love a vintage souvenir scarf.
This is a Venice theme print. So about as close to the canals of Amsterdam as I could get. They aren't easy to find, and I am always delighted to come across one from a place I have actually been to.
Tan is the perfect autumnal colour for accessories. Goes with pretty much everything so keeps my packing light too.
This lovely vintage bag arrived in the post just in time to take on holiday and I turned out to be super useful! Just the right size to fit in my essentials comfortably. But small enough that even if I stuff it full of unnecessary rubbish (like I usually do) then it isn't too heavy to carry around all day.
Gosh, this is my first outfit post in a while that doesn't include any handmade items.
I am always very precious with my handmade and vintage pieces that I worry they will get ruined.
That's what's great with repro or high street pieces. Machine washable and can take the strain of being stuffed in a suitcase and roughed up a bit.

Anyone notice how my outfit matches the buildings. Totally accidental, but YES!!!

X O X O