Sometimes I will see an outfit in a film, in a magazine or being worn by a fellow blogger and it calls out to me, I'm always on the look out for outfit inspiration!
Ever since I saw the film 'My week with Marilyn', one particular look screamed out to be recreated.
Simple, yet timelessly elegant.
Easy to wear and style for different occasions, such a useful outfit to have!

As I don't have much storage space, I like to make sure that the garments I have really work hard for their keep.
I enjoyed putting this look together and swanning about, looking sophisticated on a sunny, autumn afternoon. Nothing says sophistication quite like a crisp white shirt and a cashmere pencil skirt.
I used the
Granville Shirt pattern
for this classic white shirt after ogling
HandmadeJane's
gorgeous versions.
I didn't do any alterations to the pattern and I absolutely love the fit! Slim fitting, without being restrictive.
The seams in the back of the shirt mean that you can adjust the fit to how you like it, and you can follow the shape of the body better than you can with a dart.
A classic collar, with collar stand, though I wouldn't necessarily wear it done up, it is satisfying to sew, and looks very professional.
I was tempted to use a cotton shirting, or a cotton lawn to make this as it would sew up so easily, but I ended up using a very fluid viscose, which feels very lovely against the skin, and was worth the additional effort to sew together.
With a proper cuff and placket, which I had never sewn before and went in surprisingly easily as the pattern instructions were very clear and polishes off the look perfectly.
Close up of the placket, because the stitching is particularly straight, wink wink!
Outfit Details
Shirt- Me made- Granville shirt from Sewaholic patterns
Skirt- Me made- from Gertie's new book for better sewing
Shoes- Monsoon (super old)
Gold locket necklace- Vintage- Etsy

Bag- Vintage- Etsy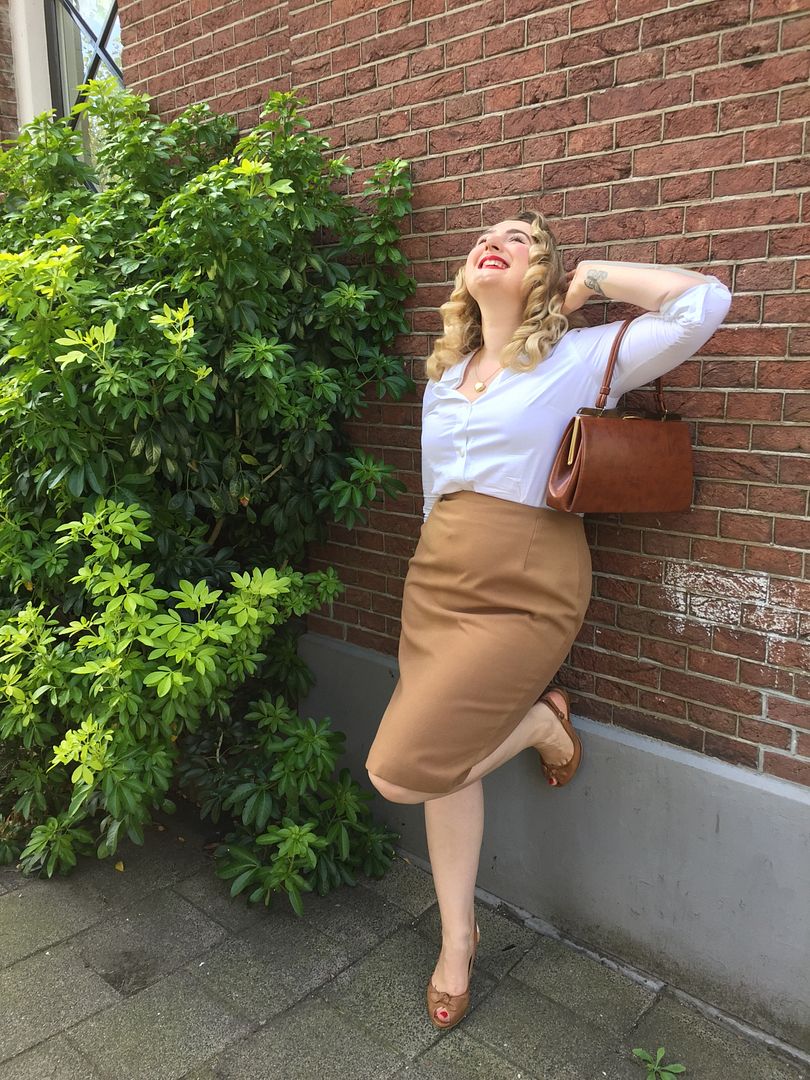 And just so you know it isn't my bellybutton you can see in all of these otherwise pretty perfect pictures. It is an unfortunately placed button that I must remember to cut off!
You can now scroll up and look back at all of the pictures of the blasted button that you probably didn't even notice before. Tee Hee Hee!!!

X O X O
Christina