Was it just me, or did Autumn come and go incredibly quickly?
I have barely come to grips with dressing seasonally appropriate and the season has gone and changed again!
At least my newest make is a good transitional piece, so luckily I can wear it as much as I like in the coming weeks (well months, I do love it!)
I fell in love with this 1940s pattern instantly, but have held off making it for a while because the pattern was missing instructions and pattern pieces.
So it was like a Sudoku puzzle- not one of my strengths!
But it came together splendidly in the end, after many a mock up!

Sleeves! Why don't I make more garments with sleeves???
These are particularly fabulous, slim cut sleeves, with a triple dart at the elbow for movement.

I tried to photograph the inner elbow darts, but I am yet to find a pose which doesn't look ridiculous, suggestions welcome!
So you will have to take my word on the fabulous triple sleeve darts!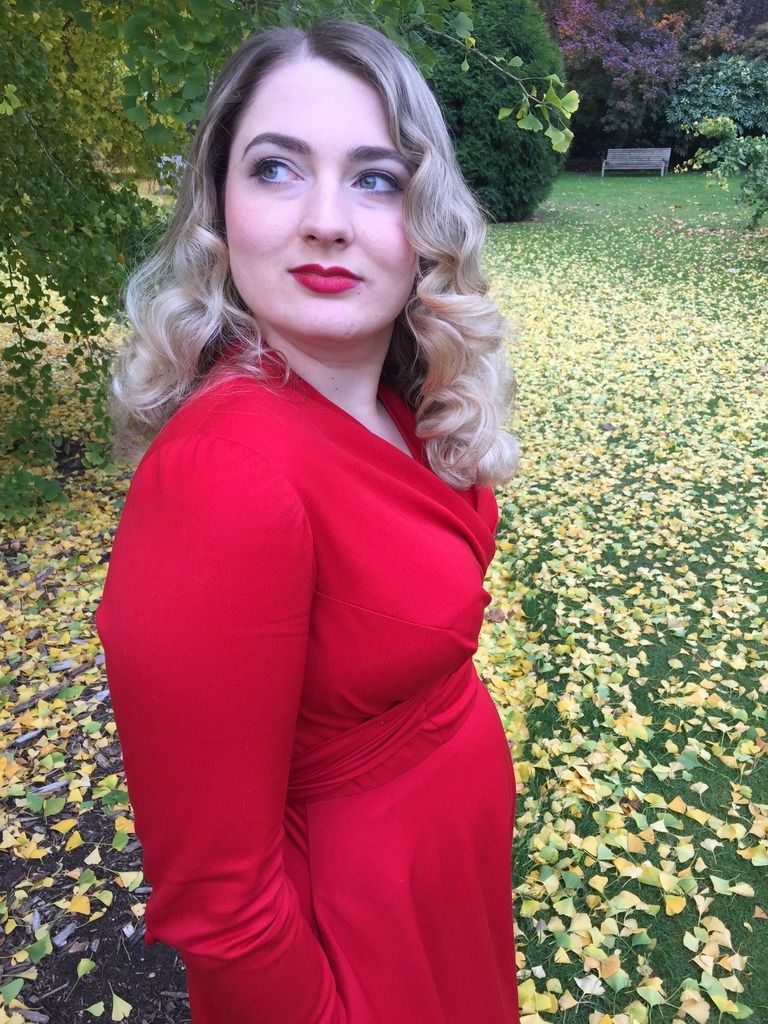 This pattern calls for soft shoulder pads, which have cured my irrational fear of shoulder pads!
They don't make my broad shoulders broader at all! Instead they offer a little structure and balance the silhouette beautifully!
The cross over front was what I fell in love with!
It is also what drove me insane trying to figure out, but I managed to compromise a solution!
For the eagle eyed among you, you may notice that the twisted front is not quite the same as the pattern.
I did originally make the front as it is intended to be, but it wasn't flattering, so I have fed one of the ties through a dart and stitched it in. Less bulky in the front that way.


I added pockets, which is not part of the original pattern, but I always love pockets in dresses, so i'm glad I spent the extra time adding them!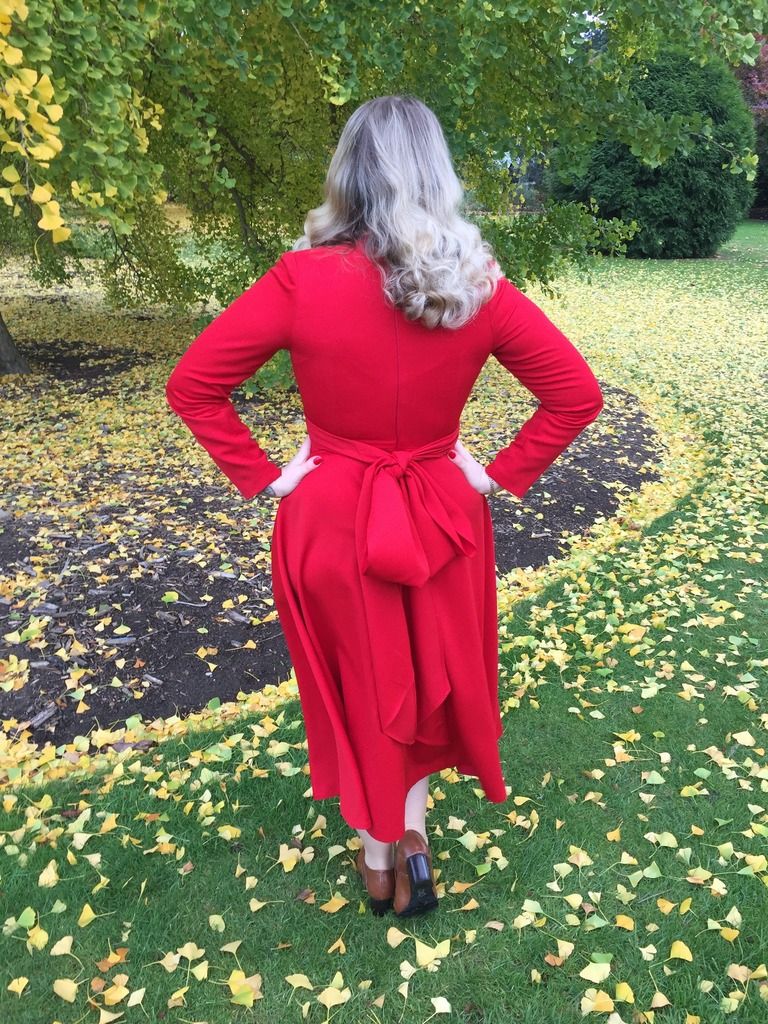 The big bow in the back is a little dramatic!
But a bright red dress is never going to be subtle anyway.
It is a soft drapey bow though, so I think it remains pretty elegant.
Got to get those pictures of Autumn leaves in before they are all gone!
Outfit Details
Dress- Me Made from Vintage Simplicity 2178
Shoes-Ebay
Earrings-Vintage-Bang Bang clothing exchange
The fabric I used is a wool suiting, lovely and warm, which drapes well. Bought from Classic Textiles, Goldhawlk road, London.
What a fraying mess that was to sew, summer can't come along soon enough so I can get back to sewing with good old stable cotton!
I think this is only the second pattern from the 40s that I have sewn up.
I'm so proud of the finished result, which makes all of the hard work totally worth it!
I am actually feeling super in to the 40s style this season, so maybe a couple of more pieces might pop up!
X O X O
Christina